Admin Guide - The Dashboard (Home)
This guide will cover the main dashboard of Travitor and highlight some of the areas most relevant to Administrators.
Upon login, you will be brought to the main 'Home' screen (or dashboard). Here, you'll be able access all of the various features of the system.
The most prominent features on the dashboard are highlighted in the image below. Let's cover each of these in more detail.
The primary elements of the Travitor system are comprised of the main navigation links, located at the very top, center of the screen: Home, Courses, Events, and Reports.
Underneath the main navigation links are quick links to some of the more prominent features used by Administrators. They include the ability to: Create Courses, Create Events, Add Users, and Generate Reports (custom).
The "Hi, [User]" drop-down allows for the adjustment of settings and account information, including a user's Profile (applies to individual user), Settings (system-wide), access to Support, and the ability to change from and Admin Account to a Student Account.
The "Bell" icon reveals system notifications that allows an Admin to view all system-wide activity.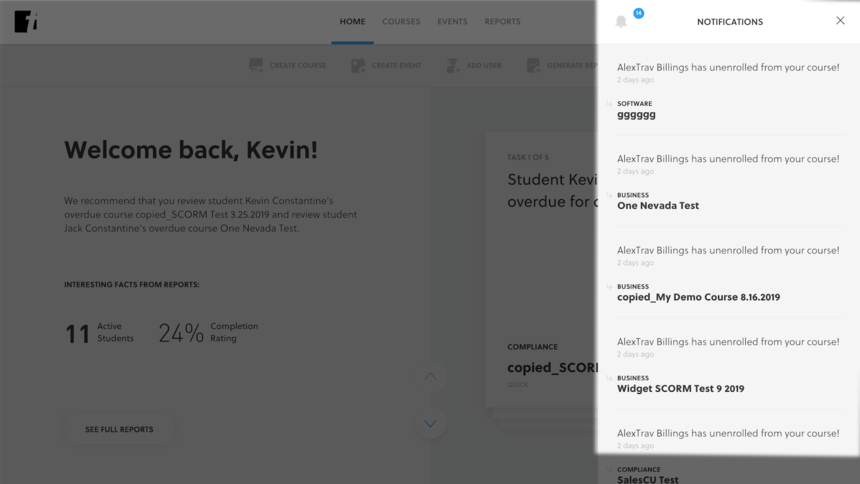 The "Magnifying Glass" icon allows for the search of various elements within Travitor, including Courses, Events, etc.
The "Welcome Back, [User]" section provides Administrators with time sensitive info that requires attention.
Underneath the "welcome" statement are important stats that an Admin may find useful.
The task carousel provides a visible representation of the time sensitive info that requires an Admin's attention.